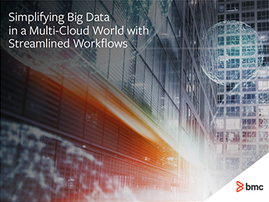 Using multiple disparate tools to orchestrate complex workflows across multicloud and traditional environments drags down the reliability of the process and ultimately slows business insights that depend on data analysis.
BMC offers a reliable, fail-safe way to automate and orchestrate every step of big data processing across all of your environments.
Control-M
speeds the implementation of
big data projects by replacing manual scripting with automated workflow management and data integration.


Stop Manual Scripting and Automate







Download "Simplifying Big Data in a Multi-Cloud World" now.