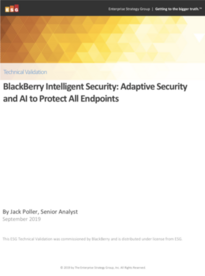 Mobile devices and apps are significant stressors of cybersecurity risk. Employees use multiple devices for work, and they often access corporate applications and data from personal devices. It's no surprise that managing privacy and protection is getting more difficult.
Instead of applying inflexible, static policies, modern endpoint management solutions use machine learning and predictive AI to dynamically adapt security policy based on behavioural and location patterns, network trust, device and other factors. Improving the user experience, keeping data safe and employees productive and in compliance.
Privacy and Protection is Getting Harder
Top 3 Challenges of Managing Applications, Data and Endpoints
31% Maintaining OS and app updates
28% Maintaining security of ecosystem
27% Employee-owned devices accessing corporate resources
– Enterprise Strategy Group


























Download "Technical Validation: Adaptive Security and AI to Protect Mobile Endpoints" now.