Get Advice from the Trenches

A modern, software-defined approach to infrastructure can position your business for success. But setting up a modern infrastructure to support today's always-on businesses isn't easy.
VMware can help you avoid five common pitfalls when setting up a modern IT infrastructure so that you can run consistent infrastructure and operations across your private data centers and public clouds.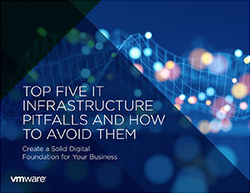 Download "Top Five IT Infrastructure Pitfalls and How to Avoid Them" e-book.
A 2017 survey of 600 U.S. IT and business executives revealed that believe the IT skills shortage is growing.
57% of large firms
44% of mediums firms
23% of micro-sized firms